Welcome Message From the PTA President
2020 - 2021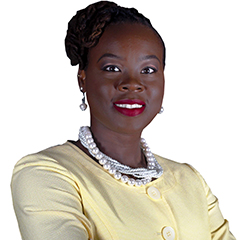 Dear Fellow Parents, Teachers, Students & Staff of Mona Preparatory School
Welcome to the new school year!
This year we will miss some of the usual forms of excitement that mark the beginning of new adventures. We will miss the excitement that is usually evidenced by new uniforms, big hugs, well-decorated classrooms, and simply being able to reconnect as a school family after a hiatus.
But alas, 2020 is the year of change! It's the year that forces us to realize that life owes us nothing, and to reflect that life itself is the greatest gift that God has given us. Change is uncomfortable, but it presents the biggest opportunity for personal growth. I am confident that as a school we will grow in character, resilience, adaptability, compassion and appreciation for each other this school year. We will learn a lot of new things and new ways of doing things. This will prepare our families for the future
When this pandemic started, I once thought that if my son wrote an essay featuring a virus which originated from a bat in a market in a far away land; that lead to the closure of world economies, laws that required all of us to stay home for months, school closures across the world for more than 6 months, almost complete restriction on world travel, etc perhaps I might have encouraged him to write something more realistic. Well, now all of us know from first-hand experience that thinking outside the box is the new norm. This generation of youths will not be intimidated by complex problems, be they global or localised.
As parents, we are committed to ensuring that our children live purposeful and fulfilling lives, and providing safe physical and emotional spaces for them. Mona Preparatory School is a very important part of that equation. The PTA would like to take this opportunity to thank our Principal and her entire staff for their hard work and dedication in preparing the school for a spectacular 2020/2021 school year that will tick all the right boxes. We know that it's been a challenge. We appreciate you.
At this juncture, we are expecting that most PTA activities will be conducted online. We will have fun and engaging activities, as well as opportunities to learn and grow with each other. The PTA is looking forward to your full support and participation as we embrace the year of change!
Yours Sincerely,
Andrea Scarlett-Lozer
President,
Mona Preparatory School PTA 2020/2021
Meet Our PTA Executive